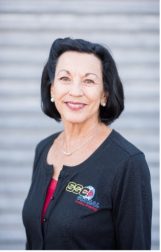 Marcia Veidmark
President and Chief Executive Officer, SSC Underground
AREAS OF FOCUS:
Board Member
Marcia Veidmark is President and CEO of SSC Underground, an underground utility construction and consulting company based in Phoenix, AZ. As one of it's founding owners nearly 50 years ago, Marcia has served in all major capacities including secretary, treasurer, chairman of the board, as well as actively managing all daily business and financial activities. In addition to her leadership of SSC, Marcia has been a partner in several other small businesses over the years with a focus in real estate investment and development in several areas of the western United States.
With her years of hands-on business experience, Marcia possesses unique expertise on successfully managing and growing a company. Her advanced knowledge of Arizona's business climate, construction industry and economy have enabled her to successfully expand the company over it's 5 decade history. In addition, she has practical insight into the daily needs of effective business operation including project management, accounting, contract administration and human resources. She has worked to create a culture where employees are treated with respect and invested in through training and development.
In addition to her business activities, Marcia is a dedicated civil servant to the local community. She was the founding chairman of the North Mountain Business Alliance and serves on the North Mountain Village Planning Committee. She was a member of the My Plan Phoenix Leadership Committee, helping to create the city's master plan. Marcia is a former member of the Greater Phoenix Chamber of Commerce's Board of Directors and an active member of their Impact Awards program.
Marcia's success in business and in the community has been celebrated with several awards including the Arizona State University-Spirit of Enterprise Award for Emerging Entrepreneur in 2002, the Greater Phoenix Chamber of Commerce-Small Business Award for Response to Adversity in 2004, and the Construction Financial Management Association-Executive of the Year in 2010, among many others.
Education has been an ongoing, life long pursuit of Marcia's including business education at Azusa Pacific University, Northern Arizona University and Western International University. She is a graduate of the APS Academy for the Advancement of Small, Minority and Women Owned Enterprise (AAAME) program. Marcia maintains business growth and network development through membership in the Women's Presidents Organization.