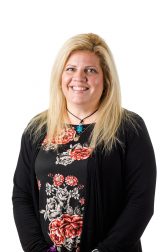 Zandy Ahern
Manager, Pre-Employment Screening
EDUCATION CREDENTIALS:
A.A.S., Paralegal
AREAS OF FOCUS:
Drug and Alcohol Testing and Policies, Pre-Employment Screening/Background Checks
INDUSTRIES SERVED:
Arts, Entertainment, and Recreation, Construction, Education Services, Finance and Insurance, Health Care and Social Assistance, Manufacturing, Mining, Quarrying, and Oil and Gas Extraction, Professional, Scientific, and Technical Services, Real Estate and Rental and Leasing, Retail Trade, Transportation and Warehousing
Zandy started working with Employers Council 08/2006 as a Research Specialist. She earned a AAS, Paralegal degree in 2010, and is currently the Manager of Pre-Employment Screening, Drug & Alcohol Testing and Testing and Assessments. Zandy has an Advanced FCRA Certification through Professional Background Screening Association (PBSA), and aPHR Certification.