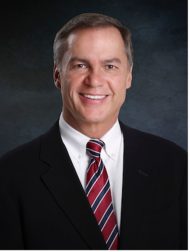 Scott R. Watterson
Chairman and Chief Executive Officer, ICON Health & Fitness
AREAS OF FOCUS:
Board Member
Scott is the co-founder of ICON Health & Fitness, the world's largest developer and marketer of products and services for a fit and healthy life.
The company, headquartered in Logan, Utah, is known for its innovation on treadmills, ellipticals, stationary bikes, fitness wearables, road and trail running shoes and fitness accessories for strength training, yoga and flexibility.
ICON's leading brands include NordicTrack, ProForm and Weider for home fitness and FreeMotion Fitness for the health club market. The company's brand for fitness wearables and subscription fitness solutions is iFit. ICON's award-winning running shoe brand is Altra Footwear
ICON innovation leads the industry, and Scott is the main inventor for the company's more than 200 patents and 500 trademarks.
Scott graduated from Logan High School and served as a full-time missionary in Taiwan for The Church of Jesus Christ of Latter-day Saints. Upon completion of his mission, he graduated from Utah State University, Cum Laude, in 1979 with a degree in business marketing and a minor in Chinese. Scott has maintained his fluency in Chinese throughout his business career.
In 2003, Scott, with his wife Michele, returned to the mission field to serve as mission president in Taiwan, overseeing the efforts of 150 full-time missionaries ages 18-24.
He has served on the Board for Utah State University Foundation, the Board of Trustees for the Make-A-Wish Foundation of Utah, the Utah Foundation and the Board of Trustees for Employers Council of Utah. He currently serves as Vice Chair of the Utah State University Board of Trustees and on the Mountain States Employers Council Board of Directors. He and his wife have 5 children and 12 grandchildren.