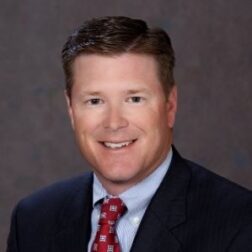 Royal Lovell
Chairman and Chief Executive Officer, Flood and Peterson
AREAS OF FOCUS:
Board Member
Royal is the Chairman and CEO of Flood and Peterson. He leads the Board of Directors and is a stockholder in the company. Flood and Peterson is one of Colorado's largest insurance brokers with offices in Greeley, Ft. Collins, and Denver.
Royal has over 20 years of experience in the insurance and surety industry, including various leadership positions within Flood and Peterson.  He has broad experience with risk management and surety programs for large construction clients.
Royal has a Bachelor of Science Degree in Accounting from North Dakota State University and is a licensed CPA (inactive).
Royal is active in the Northern Colorado community.
Royal has been married to Angie for 27 years and they have four children:  Beth (age 26), Eric (age 24), Alicia (age 21), and Abby (age 15).