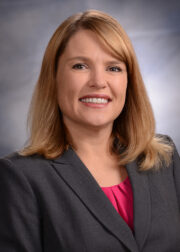 Michelle Jacobsen
Vice President
CERTIFICATIONS:
SPHR (HRCI certification)
EDUCATION CREDENTIALS:
J.D. - Juris Doctor
LICENSED TO PRACTICE IN:
Colorado, Wyoming
AREAS OF FOCUS:
Legal Services, Officer
INDUSTRIES SERVED:
Accommodation and Food Services, Agriculture, Forestry, Fishing and Hunting, Construction, Education Services, Finance and Insurance, Management of Companies and Enterprises, Manufacturing, Mining, Quarrying, and Oil and Gas Extraction, Utilities
Michelle Jacobsen is a Vice President and the Corporate Secretary of Employers Council and she oversees several departments responsible for providing member services. Michelle also acts as internal legal counsel for the organization. During her career at Employers Council, Michelle has worked as a staff attorney, Director of the Southern Regional Office, and Director of Employment Law Services. Michelle's previous professional experience includes working as SVP-General Counsel for a large community bank, private legal practice, and as an investigator for the State of Wyoming. Michelle received a Bachelor's degree and a Juris Doctorate from the University of Wyoming and holds the Senior Professional in Human Resources (SPHR) certification. She is licensed to practice law in Colorado and Wyoming.