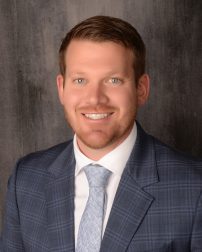 Glenn Pelster
Director, Arizona and Utah
EDUCATION CREDENTIALS:
J.D. - Juris Doctor
LICENSED TO PRACTICE IN:
Arizona, Colorado, Nebraska
AREAS OF FOCUS:
Administrative Representation, Disability Accommodations, Discrimination and Harassment, Employment Policies and Handbooks, Employment Practices Audits (HR Audits), Legal Services, Medical Leave (ADA, FMLA, etc.), State and Federal Wage Laws, Strategic Planning, Training/Trainer
INDUSTRIES SERVED:
Agriculture, Forestry, Fishing and Hunting, Construction, Health Care and Social Assistance, Management of Companies and Enterprises, Manufacturing, Professional, Scientific, and Technical Services, Real Estate and Rental and Leasing
Glenn obtained his Bachelor of Science in Business Administration from the University of Nebraska, and his Juris Doctor from the University of Arizona. Glenn is licensed to practice law in Colorado and Nebraska, and he is approved to practice in Arizona while his Bar admission is pending. Glenn started his legal career interning with the Equal Employment Opportunity Commission in Washington, DC and joined Employers Council as an Employment Law Attorney in our Colorado Springs Office in 2013.
For the past five years, Glenn has operated his own law firm in Ogallala, Nebraska serving clients in a variety of legal matters across western and central Nebraska, specializing in counseling and litigating employment law issues for both employers and employees. Glenn rejoined Employers Council in 2020 and assumed the position of Arizona Operations & Member Services Director in 2021. In that role, he leads the Arizona team and shares his experience in training HR professionals and managers on employment law issues as well as conducting wage and hour, independent contractor, and general HR audits.