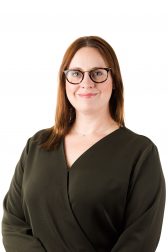 Alexandra Bellanti
Affirmative Action Planning Services Manager
EDUCATION CREDENTIALS:
J.D. - Juris Doctor
LICENSED TO PRACTICE IN:
Colorado, Oklahoma
AREAS OF FOCUS:
Discrimination and Harassment, Legal Services, Pay Equity, State and Federal Wage Laws
INDUSTRIES SERVED:
Agriculture, Forestry, Fishing and Hunting, Management of Companies and Enterprises, Professional, Scientific, and Technical Services
Alex joined Employers Council in the summer of 2018 as an attorney with the Employment Law Services department. In November 2020, she transitioned to a role as the Pay Equity Attorney within the Specialized Legal Services department, and works with the AAPS/Pay Equity Group on performing pay equity audits and advising members on related matters. Alex specializes in wage and hour law, with a current emphasis on pay equity, as well as discrimination and the law of EEO. Before joining the Council, Alex practiced Plaintiff's side employment law for nearly five years in both Colorado and Oklahoma. Outside of her practice, Alex enjoys skiing, cooking, caring for her excessive number of plants, and Texas Rangers baseball.