Voluntary Benefits: Why Offer Them?
by Sue Wolf
As employers continue to evaluate their total rewards package in response to the historically low unemployment rate, voluntary benefits may have more focus on benefit plan design. The trend toward voluntary benefits is driven largely by the growth in high-deductible health plans, which shifts higher health costs to the employee. Employers are implementing new voluntary benefits into their benefit offerings such as supplemental medical insurance to assist employees in covering the higher health costs and provide employees with the ability to customize benefits to fit their lifestyle.
Meet the Needs of Employees
Organizations should design benefit offerings to meet the desires and needs of their employees. Well-designed benefits can enable companies to strengthen their ability to attract and retain workers in this very tight labor market. According to Employee Benefit Research Institute's 2020 Workplace Wellness Survey, 54% of respondents indicated they are very or extremely satisfied with their employer's health insurance plan; 58% are very or extremely satisfied with their retirement plan, and 47% are very or extremely satisfied with their employer's overall benefits package. There is room for improvement of benefits offering by looking at what voluntary benefits might be included. The survey also reported employees select voluntary benefits through their employer because of the lower cost vs. purchasing on the open market. Employees also like the ease of purchasing these benefits via payroll deductions.
All of this leads one to believe that voluntary benefits will play a more prominent role in organization benefit packages in the coming years – both in traditional and non-traditional voluntary benefits.
Traditional Voluntary Benefits:
Many employers already offer traditional voluntary benefits such as short-term disability, life insurance, and vision insurance. In the coming years more employers will also begin to offer gap/medical supplement, cancer, and critical illness, and hospital supplemental policies to enrich the employee benefits package and reduce potential health care costs the employee may be liable for without such policies.
Non-traditional Voluntary Benefits:
Most of the non-traditional benefits provide employees with benefits they can use year-round to obtain something they need rather than many core benefits that employees only appreciate when they are sick or injured. Some examples of non-traditional voluntary benefits are pet insurance, identity theft insurance, membership discount programs, auto or home insurance, legal services, financial planning, etc.
According to Employers Council's 2020 Health, Welfare, and Retirement Plans Survey, employers are offering the following types of voluntary insured benefits in Arizona, Colorado, Utah, and Wyoming.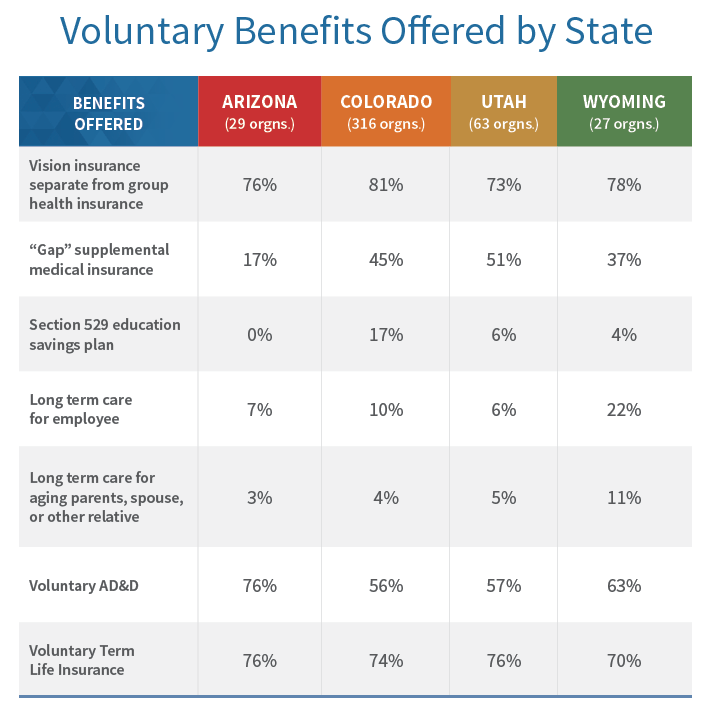 Organizations must design comprehensive insured benefit packages that include core and voluntary benefits to fit the needs of their employee demographics as well as how the benefits fit within the organization's overall total rewards and wellness strategies. It will be interesting to continue to monitor the above benefits in our Health, Welfare and Retirement Plans Survey to see if any of these benefits become more popular offerings.