With the start of the New Year, Employers Council's Surveys Team would like to thank members who found a way to participate in our 2020 surveys; especially given all of the challenges and demands on staff resources this year. We greatly appreciate our partnership with members which allows us to publish the most comprehensive and reliable compensation and benefit surveys in the region.
As the New Year begins, we want to take this opportunity to announce the 2021 Core Compensation & Benefits Survey Schedule. Please mark your calendar with these important 2021 survey dates!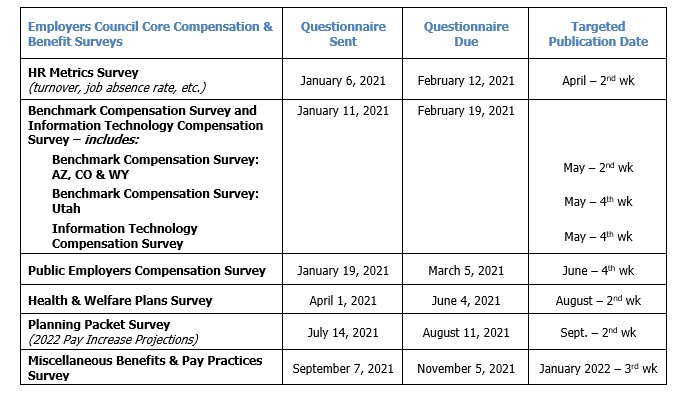 We thank you for your ongoing support of Employers Council's compensation and benefit surveys. If you have any questions for us or suggestions on how we can improve the survey process, please contact us at 800.884.1328 or surveys@EmployersCouncil.org.
Survey Highlights
2020 Non-Profit/Foundation Compensation Survey
The 2020 Non-Profit/Foundation Compensation Survey is now available. There were 149 participants in total in the survey. Participation includes 3 organizations from Arizona, 139 from Colorado, 4 from Utah, and 3 from Wyoming. This survey reports salary data for full-time and part-time employees in 104 positions. These data are displayed by annual budget size, and type of nonprofit. Data reported by Foundations are sorted by asset size. The General Information section of the survey reports the projected pay and pay structure increases for 2020 and 2021 in addition to other organization practices.